After moving to a new facility in June 2019, Flux Power is expanding their operations by occupying an additional 23,000 sqft facility.
Supply Chain Manager Jerrett Chambers commented, "By doubling our production space and reorganizing inventory by packs, Flux Power will be able to reduce kit production times by 50%."
The facility expansion will feature:
Installed vertical storage units to maximize inventory capacity
Dedicated racks for each product line to optimize kit production and minimize time spent collecting materials
Increased storage space for lithium-ion cells
Enhanced manufacturing space for each of the product lines: X-Series, L-Series, M-Series, S-Series, & GSE Packs
Expanded work area for RMA department 
"The acquisition of the new space allows the materials team to expand and provide a greater volume of raw goods, allowing production to expand capacity to its fullest," stated Steve Fambro, Director of Production.
T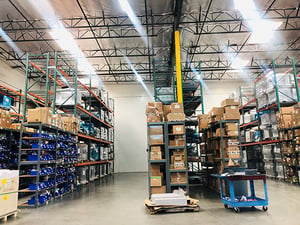 he additional space will position Flux Power for continued growth to meet customer demand for clean, safe, and innovative lithium-ion battery solutions.
https://www.fluxpower.com/news/facility-expansion-at-flux-power-creates-new-opportunities
News stories are submitted by member companies. Publication of a story does not indicate an endorsement of any product, event, or company by MHEDA.